Redistricting Panel Hears Concerns About Redrawing Rapid City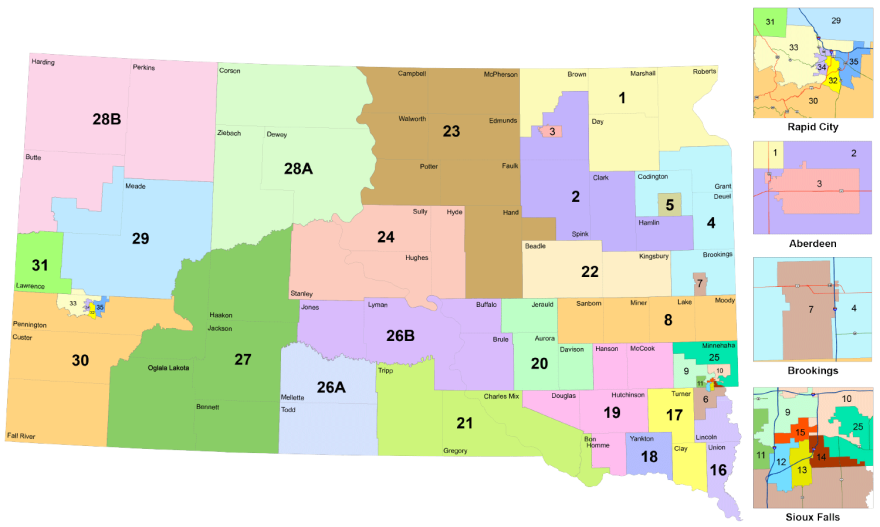 Legislative panels looking at redrawing state political boundaries are taking public input.
One group is hearing from those in the Rapid City area.
When state lawmakers met ten years ago they split north Rapid City into three separate districts. District 33 stretches from a reservoir in the Black Hills all the way to the mall in Rapid City and down into a portion about seven blocks wide.
Jay Davis is a Rapid City resident and lawyer. He says splitting north Rapid City like that was unfair.
"North Rapid, in particular, has always been badly gerrymandered for both partisan and racial purposes to make it very difficult for a Democrat to get elected and to make it very difficult for a Native American to get elected," Davis says.
Davis says the committee should consider legislative districts for each direction in town—north, south, east and west.
Lawmakers want to draw boundaries around the state's two biggest cities, called conurbation districts. That would be districts that encompass extended urban areas.
One town just to the east of Rapid City saw exponential growth. Box Elder, which is home to Ellsworth Airforce Base, saw some of the largest growth in Pennington County.
Gary Drewes is chair of the Pennington County Commission. He says Box Elder has grown from a bedroom community to a substantially sized community.
"That's going to grow, considerably, again in the near future with the B-21 coming in and the additional personnel and families that come along with that," Drews says.
Elevate Rapid City estimates the Rapid City area to grow by about 30 to 40 thousand people in the next decade.
Republican State Senator Mike Deidrich says that adds a layer of complexity to redistricting efforts.
"It would be nice if we could build districts that would be equalized and end up being better over several years," Deidrich says. "But I don't think the law necessarily allows that."
Lawmakers are holding hearings about legislative districts in tribal areas Wednesday. The redistricting committees are meeting on Thursday to set conurbation districts.