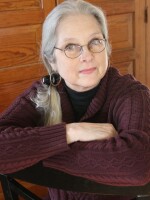 Victoria Wicks
Former SDPB Freelance Reporter/Producer
Rapid City freelancer Victoria L. Wicks has been producing news for SDPB since August 2007. She Retired from this position in March 2023.
She has been a newspaper reporter, and she spent about 14 years advocating for crime victims in Rapid City and Aberdeen.
Victoria is also a creative writer; several of her short stories have been published, one of them in an anthology titled Fishing for Chickens: Short Stories about Rural Youth.
In addition, Victoria is a visual artist, creating pottery, watercolors, oil and acrylic paintings, and photographs. She holds a Master of Arts degree in English from the University of South Dakota.

A bill allowing municipalities and counties to join together to build regional jails has died in the South Dakota House of Representatives.

A bill to create a study committee to improve Native children's lives was killed in the House of Representatives.

The South Dakota law that established the State-Tribal Relations Committee has been changed to reduce the mandatory number of Democrats serving on it.

A bill to allow state circuit judges to refer kids to the Department of Corrections for repeat nonviolent offenses has crossed its last legislative hurdle.

A bill to limit parole for violent offenders, known as the "truth in sentencing" bill, was given final legislative approval.

The House Judiciary Committee heard two Senate bills that arose from a summer interim study designed to improve juvenile justice in South Dakota.

A bill to set up a task force to study Indian Child Welfare in South Dakota has been approved by the House Judiciary Committee.

A bill to establish a Center for American Exceptionalism at Black Hills State University was killed twice in the House.

The "truth in sentencing" bill narrowly passed in the House Judiciary Committee on Wednesday, Feb. 22, by a vote of 7 to 6.

South Dakota laws setting deadlines for petitions violate free speech guarantees of the U.S. Constitution. That's according to an opinion released Friday, Feb. 17, by the Eighth Circuit Court of Appeals.