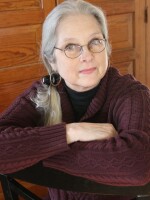 Victoria Wicks
SDPB Freelance Reporter/Producer
Rapid City freelancer Victoria L. Wicks has been producing news for SDPB since August 2007.
She has in the past been a newspaper reporter, and she spent about 14 years advocating for crime victims in Rapid City and Aberdeen.
Victoria is also a creative writer; several of her short stories have been published, one of them in an anthology titled Fishing for Chickens: Short Stories about Rural Youth.
In addition, Victoria is a visual artist, creating pottery, watercolors, oil and acrylic paintings, and photographs. She holds a Master of Arts degree in English from the University of South Dakota.
In 2020, she won a national Edward R. Murrow Award for Excellence in Writing, and she has won numerous regional awards for her radio reporting over the years.

A lawsuit against a former special education teacher in Aberdeen can go forward, according to an opinion by the Eighth Circuit Court of Appeals.

U.S. District Judge Charles Kornmann refused to dismiss indictments against a defendant after she entered into a plea deal with the U.S. Attorney's office. Kornmann said because of the deal, he would not be able to sentence Tiffany Bernard to more than 15 years in prison, even though she was the ringleader of a vicious crime.

The U.S. Supreme Court held in a recent opinion that states have concurrent jurisdiction in Indian country over non-Indians committing crimes against any victim. This ruling creates overlapping prosecution powers of state, federal, and tribal authorities.

The U.S. Supreme Court's opinion in Oklahoma v. Castro-Huerta expands jurisdiction over certain crimes committed in Indian country. Now states share jurisdiction with federal authorities.

In the aftermath of the opinion in Oklahoma v. Castro-Huerta, the National Congress of American Indians and Native American Rights Fund brought indigenous leaders together for a virtual roundtable to sort out what the ruling means.

At the end of June, after the ruling that overturned Roe v. Wade, the U.S. Supreme Court issued another opinion that shook tribal nations.

The United States Supreme Court has issued an opinion giving states concurrent jurisdiction with the federal government over major crimes in Indian Country. The 5-4 ruling overturns precedent, laws, and traditions going as far back as 200 years.

In 2014 the South Dakota legislature approved reforms for the juvenile justice system that would give services to delinquent kids through teams of professionals in their communities.

South Dakota has 66 counties, but only 25 of them have a county jail. Some sheriffs turn to other counties when they need to find a jail cell for a prisoner, but too often they find that all available space is filled.