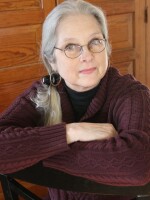 Victoria Wicks
SDPB Freelance Reporter/Producer
Rapid City freelancer Victoria L. Wicks has been producing news for SDPB since August 2007.
She has in the past been a newspaper reporter, and she spent about 14 years advocating for crime victims in Rapid City and Aberdeen.
Victoria is also a creative writer; several of her short stories have been published, one of them in an anthology titled Fishing for Chickens: Short Stories about Rural Youth.
In addition, Victoria is a visual artist, creating pottery, watercolors, oil and acrylic paintings, and photographs. She holds a Master of Arts degree in English from the University of South Dakota.
In 2020, she won a national Edward R. Murrow Award for Excellence in Writing, and she has won numerous regional awards for her radio reporting over the years.

A pair of bills authorizing the Unified Judicial System to create study groups are on their way to becoming law.

The South Dakota Supreme Court has upheld the rape conviction of a Watertown man who tried to use the defense of advance consent.

A bill to make unmarried fathers equally responsible for medical bills for a pregnancy has been unanimously passed by the Senate Judiciary Committee.

At a hearing before the Senate Judiciary Committee, officials from the Department of Revenue expressed concerns over Senate Bill 74.

A bill that would mandate communication between law enforcement and schools is now working its way through the 2023 legislative session

The Senate Judiciary committee heard testimony concerning a comprehensive package of laws from 2013 intending to find community alternatives to sending offenders to jail and prison.

South Dakota Attorney General Marty Jackley has sponsored bills dealing with election laws

The House Judiciary Committee voted unanimously to approve a study to find solutions on the rising cost of court-appointed attorneys.

The Unified Judicial System is proposing a study of young adult offenders, to determine how to handle them in the criminal justice system.

First Bank of Florida has argued that South Dakota courts don't have jurisdiction to uphold the bank's guarantee of funding in a beef deal.