Chief Leonard Crow Dog Passes On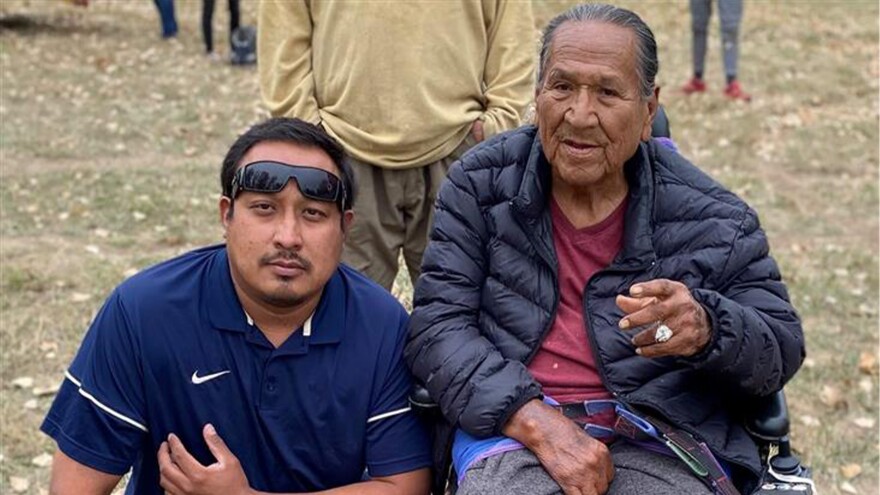 An internationally renowned Lakota medicine man has died.
Chief Leonard Crow Dog passed away on Sunday, June 6.
Crow Dog was a spiritual advisor to many, including the American Indian Movement during the Wounded Knee Occupation in 1973.
The Sicangu Lakota medicine man was born in 1942 in the Rosebud Reservation.
Crow Dog was kept from Boarding School education.
Milo Yellow Hair is an Oglala Lakota, who met Crow Dog as a kid. Yellow Hair says Crow Dog grew up in a traditional way.
"He was kept away from schools and from the influences of even electricity," Yellow Hair says. "Grandfathers never lived with electricity. They always had a ceremonial lifestyle. He grew up in this and the energy that creates all of that come to visit him and makes him a man that can heal. A man that can identify plants and animals that can be helpful to your spiritual upbringing, but also your physical upbringing."
Yellow Hair and Crow Dog spent time together during the Wounded Knee Occupation in 1973. During that time Crow Dog served as a spiritual advisor to the group.
"He always talked about the Universal Person," Yellow Hair says. "In our case it would be a two legged being on one world. He said he was a graduate of the University of the Universe. It's a fundamental point of view. It means that all the things you use on a daily basis has got to be clean. You also got to put prayer first in your life. This is something that he always carried with him no matter where he went."
Rosebud Sioux Tribal president Rodney Bordeaux says Crow Dog created a pathway for indigenous people to follow to restore traditional ways.
"He did that throughout his life," Bordeaux says. He's a staunch supporter of our treaty rights, the return of the black hills. Basically, he was one of many of our people that have gone on that preserved our spiritual ways—the language—so that we could continue as a people."
Crow Dog's influence is international. He shared Lakota culture across the world.
Lloyd Big Crow is one of Leonard Crow Dog's nephews.
"He healed a lot of people, he changed a lot of people's lives," Big Crow says. "He was one of the last great medicine men. He took a whole generation of knowledge with him."
Big Crow says Crow Dog was always focused on future generations.
"Our visits were always about the kids. He was always talking about we have a natural teach and that's the universe itself," Big Crow says. "The plants, the animals, we just have to be self-aware."
Chief Leonard Crow Dog was buried on Monday at his home in Rosebud.