In The Moment ... Remembering The Cold War In South Dakota
In The Moment ... June 19, 2017 Show 117 Hour 2
We look back now at the Cold War, when notions of a nuclear attack from the Soviets was considered a strong possibility and South Dakotans prepared to defend the nation. George A. Larson is an author, historian, and a retired Lieutenant Colonel in the U.S. Air Force. He joins us now to talk about his latest book, "The 54th Fighter-Interceptor Squadron."

Audio File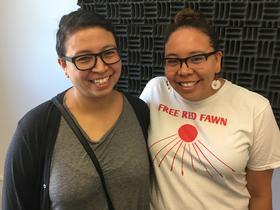 Mary Bordeaux and Clementine Bordeaux
Credit Chynna Lockett
In a culture where language and images can be appropriated in an instant, a new installation at Racing Magpie in Rapid City explores and challenges the way we look at Lakota language and culture. It's called Responsibilities and Obligations: Understanding Mitákuye Oyás?i?. Joining us today: Mary Bordeaux and Clementine Bordeaux.

Audio File