Inside Gold Discovery Day's Hot Air Balloon Rally
The Annual Gold Discovery Days Celebration in Custer features a variety of events from an afternoon parade to an arts and crafts festival. But people that wake up early enough get the chance to see the day's first event - the hot air balloon rally.
Onlookers gathered at Custer's Pageant Hill as the sun rose on Saturday. Trucks drove trailers filled with equipment onto the grass as workers began to prepare eight hot air balloons for the morning's event.
Damien Mahoney is one of eight pilots that flew passengers over the Black Hills on Saturday. Mahoney gathered his group of passengers for a briefing before the launch.
"These fans will blow air into the balloon. It will eventually look like a giant beach ball. And when it does, I'll get behind the burners which we'll set up there in the middle, add heat to it, and that'll bring it to a standing position. And I'll be ready for everybody to run, jump, and dive in the basket," Mahoney explained.
After 20 minutes of preparation, he boarded nine passengers and took to the sky. The sound of the balloon's flame blared over the passenger's voices as is rose. It reached nearly 12 hundred feet at its peak height.
Mahoney recently moved to South Dakota, after flying most of his career over a very different landscape.
"I've been flying balloons for about 15 years. I got involved in ballooning in 1999 or so, so maybe just a little more than. I've done most of my flying in the Orlando area," he said.
Mahoney is the new owner of Black Hills Balloons. He said the scenery attracted him to the area.
"It's just gorgeous. I came and visited. I was up here every September for about five years and I was just looking for an opportunity. I just love it here. And the opportunity to fly balloons in one of the most beautiful places in the world," Mahoney said between flames.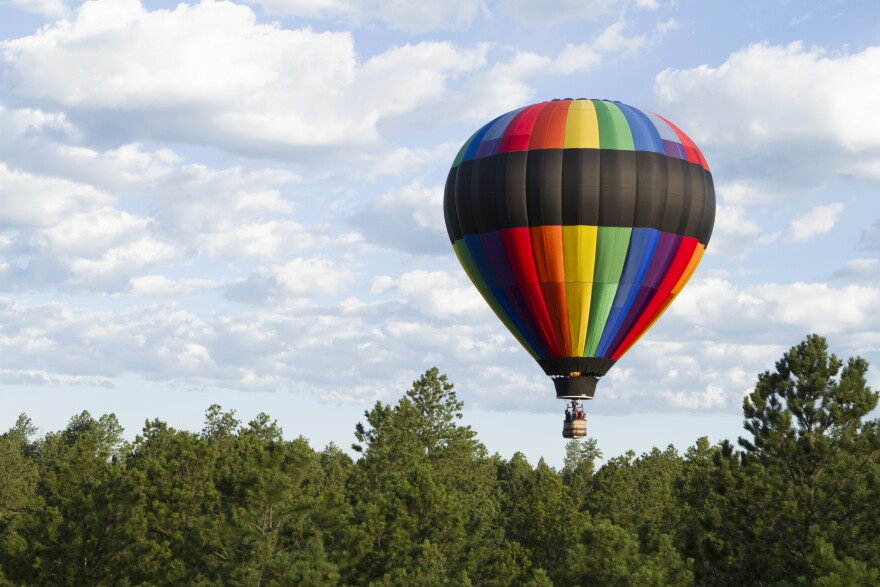 Mahoney told the group to watch for wildlife bellow. Deer, cattle and horses ran under the balloon. It passed over houses where people waved and yelled greetings from the doorways.
After 40 minutes, Mahoney landed in a small area of clearing surrounded by trees. He invited the passengers for an after-flight picnic, mimosas included.
With cocktails on the side of a dirt road Mahoney gave a history lesson on hot air balloons.
"Ballooning began many years ago and Annonay, France was the first location for hot air ballooning and flying," Mahoney explained to the passengers.
Mahoney ended the lesson with a traditional Irish prayer about ballooning.
"The winds have welcomed you with softness. The sun has blessed you with its warm hands. You have flown so high and so well that god has joined you in your laughter and set you gently back into the loving arms of mother earth. Cheers."
"Cheers."
"Congratulations. You're all aeronauts," Mahoney told the group.
He presented them with first time flyers certificates before driving them back to town.
On the trip home passengers laughed excitedly about the adventure. Not one person regretted waking up before dawn as they slowly returned down to Earth.