Two Bulls: Reflecting on the Sioux San Boarding School & Children's Memorial Walk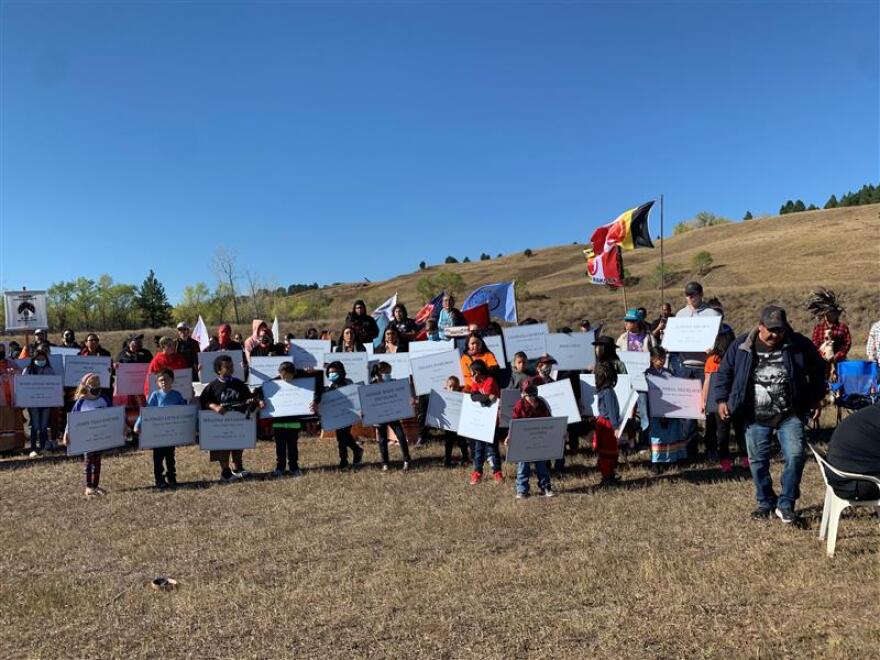 This essay is drawn from a segment on SDPB's daily public-affairs show, In the Moment, hosted by Lori Walsh.
In 1901, two young Oglala boys from the Pine Ridge Reservation were entrusted into the care of the United States government at the Rapid City Indian Boarding School that is now known as Sioux San.
From the late 1800s all the way up to the 1960s, Native American children within South Dakota and as far as Wyoming and Montana were forced away from their families and their traditional way of life to be assimilated into a culture that they never got to understand.
These stories are very tragic. It is a testament to my generation knowing that they maintained their culture and were never going to live up to the standards that were forcibly engrained upon them and their families when it came to the idea of manifest destiny.
These children and their way of life were uprooted. The two young Oglala boys that spent their existence at the Rapid City Indian Boarding School in the early 1900s yearned to be back with their families and their people. They were forced to cut their hair and they were punished for speaking their language.
Mike Sherman is that young man that ran away from the Rapid City Indian Boarding School. He and his brother followed the train tracks through Rapid City knowing that it would lead them back to their family. It was a decision that didn't end in their favor.
LaFawn Janis is a researcher and volunteer that organized the memorial walk for these children. She is only one generation away from a boarding school survivor. That survivor is her mother.
"My mom was at Marty Indian School," said Janis, "and she is relatively young. She's in her 50s. There's other members here in the Rapid City community that have also attended there. And perhaps it wasn't the starvation and beatings, however, it was colonialization that did happen to them. And so just on a personal note, my family still struggles from her trauma."
Like Mark Sherman's story, the trauma runs deep.
Sherman's quest ended on those train tracks. During that timeframe, the conditions that existed at the boarding school were subpar and the children would often runaway. Mark Sherman, his brother George, and a few others left the boarding school in hopes of seeing their families again.
The group walked along the railroad tracks knowing that it would lead to Scenic, South Dakota. At some point during their trip they rested on the railroad tracks. Mark was killed by an oncoming train and George survived with serious injuries. It's a history that is hard to comprehend because of the tragic and unnecessary death of our native youth and the culture that invoked.
"I think when people have a hard time talking about this, it's unfortunate because they need to understand why, generationally, we're struggling," said Janis. "We're getting better and it's going to just take more generations to heal from that. Because now we're identifying what we need, what we lacked, and how we can be better. So I just really hope people can have those hard conversations without thinking or saying, 'Well, we had it hard. Well, we were broke. We struggled from this and that.' But what I think they're not understanding is that colonization is not our culture. It is not who we are. So until we can fully bring that back in our everyday lives, it's going to take that time to heal."
Mark Sherman is buried in an unmarked grave south of Kyle, South Dakota, on the Pine Ridge Reservation. His and his brother's story are one of many that exist within the United States that sheds light on the many children that perished at the hands of the U.S. government, and that light shines on those hallowed, unmarked graves of where they currently lie.
A memorial sculpture is planned for the children that perished at the boarding school. A bust of the memorial was unveiled at the ceremony by artist Dale Lamphere, who notably constructed the statue Dignity that overlooks the Missouri River in Chamberlain.